Performing Arts in…

---
a workshop and educational leave by Gabrielle Staiger
from April 27th until 30th April 2022
practise mindfulness
Goal of the project is to develop performancestructures (Movementchoirs), which we will perform daily in dialogue with nature on the beach of Wittdün on Amrum, a German island in the Northsea. Your findings and observations of nature's movement will serve as inspiration in the development of the performance. During the project you will learn methods and strategies how to translate your inspiration from public space into movement and feed it into a performance structure.

Creative Systems
Creative systems embrace the creativity and individuality of each participant and are suitable especially when you're working with diverse groups. Every day starts with bodypractise in order to warm up and prepare the body for the creative process. We will be working on the beach as well as in a studio. Please bring comfortable as well as water-/windproof clothing.
suitable for amateurs and professionals
Awakening the desire to dance is an educational programme/study leave recognized under the Educational Leave Act in Hessia and Northrhinewestphalia and suitable for educators, social workers, choreographers, artistis, art teachers, PE teachers and everybody who enjoys working with movement and who would like to expand their knowledge and methodology. At the end you will receive a certificate.
Coretime of the workshop is Wednesday to Saturday (27th of April – 30th of April 2022)
9:00-15:00 o'clock.
During this time we work with movement in the studio and at the beach. Participants of the educational leave programme also participate in the coretime and will
receive further theoretical knowledge about Laban Movement Analysis (LMA) and how to
develop creative methods and strategies from LMA.
Fees:
Workshop (Wednesday to Saturday 9:00 – 15:00 o'clock): 320€
Educational Leave (Wednesday to Saturday 9:00-17:00 o'clock): 420€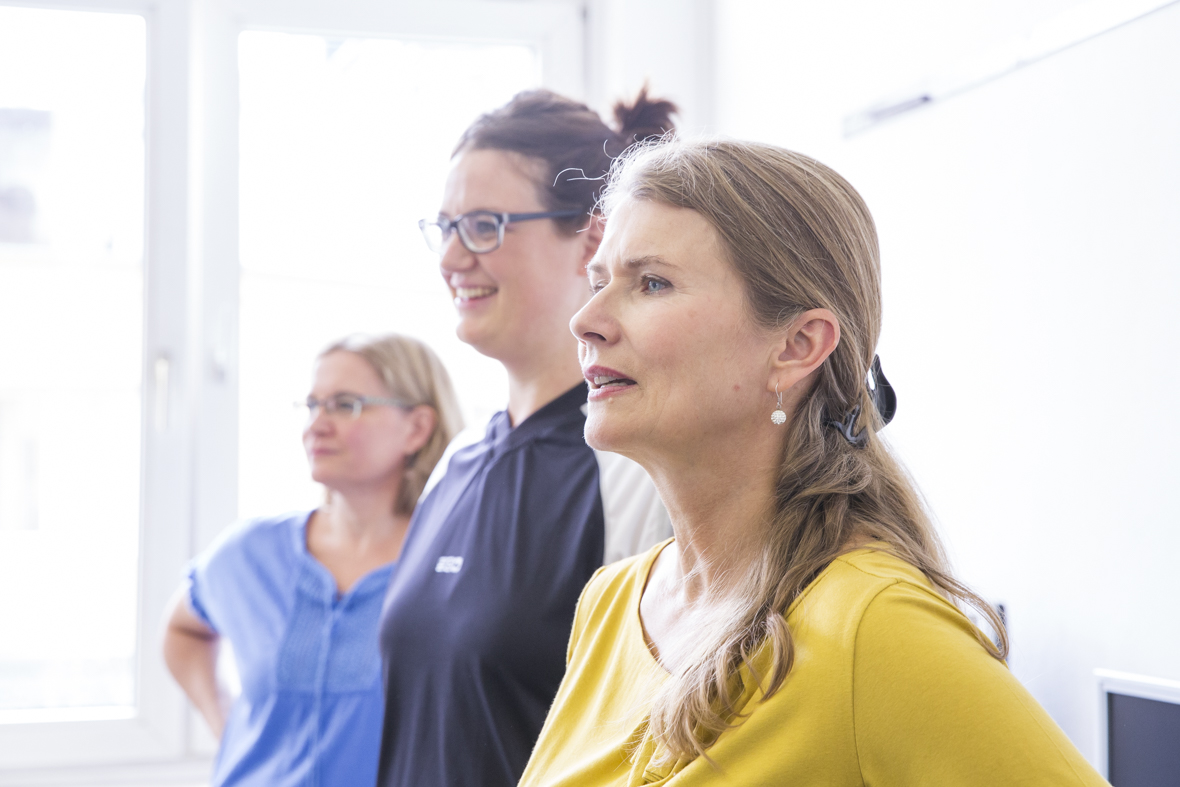 connecting yourself to nature
There will be enough time for you to walk the vast beaches, witness how the light and the formations of the clouds change, to observe how the Watts emerges from the water – revealing its secret life and how it disappears again – or to experience the spectacular bird life.
Having fun
No previous experience required. Suitable for everybody between 18 and 70 years of age. You should still be well on foot. Every partcipant will take care of their own room and board. The project is limited to 12 participants.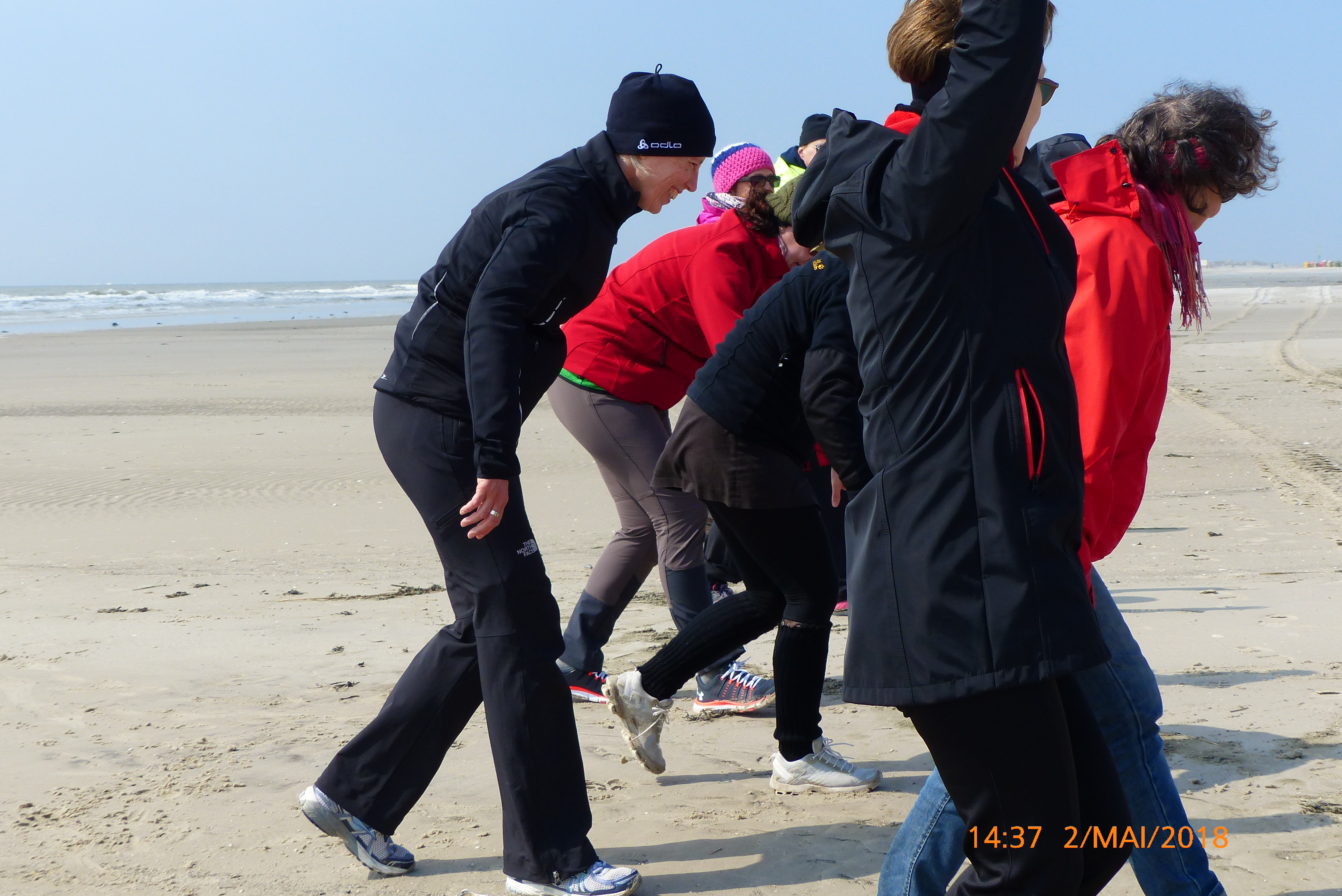 Application and Information
Please give information on which workshop you want to apply in the subject!
---
Helpful information about how to get to Amrum and the mobility on the island can be found HERE.
---
When I think of working with Gabrielle Staiger, I recall a structured, functional approach to working with the body, yet with an ability to maximize the abstract potential of the resulting movement, and create poetry for the stage. Gabrielle had a wonderful way of prompting the dancer to reach outside of their habits, and create rich, suggestive material.
D. Hayward
The theory matches her practise. Gabrielle Staiger teaches methodologically what she practises herself (this is not necessarily the case with all the teachers I encountered). I learnt a lot from her – for teaching, choreographing, for improvising…
J. Wohsalo
Her way of teaching is very pleasant and unique! She is always in good spirit, always concentrated, even entertaining and demonstrates exercises and movement patterns very clearly and explains them in a logical manner. In addition she's a wonderful power woman. It's a pleasure to work with her. She is a born teacher and choreographer, she has what can't be learnt…
K. Wiedenhofer
I met Gabrielle during my dance teaching studies where she taught contemporary dance and movement analysis. She was my teacher and mentor for two years. I loved her classes as they encouraged my dancing as well as my analytical perspective on dance and movement giving me a lot of tools to develop, dance, compose, create… They had a great impact on me as a dancer, teacher or generally dance creative. Looking back I think Gabrielle was one of the most important teachers during my education and a main influence on the "dancer" in the many ways I am today.
J. Wohsalo